Javi Marroquin is engaged to be married… AGAIN!
On Tuesday on Instagram, the Teen Mom 2 star revealed he popped the question to baby momma Lauren Comeau on Monday, June 17.
Related: Kailyn Lowry Says She Was 'Desperate' When She Married Ex Javi Marroquin!
While posting the (above) photo of the two, the 26-year-old wrote:
"June 17th I asked my best friend to marry me… Our sleepless (mainly yours) nights… our endless laughs… and our countless jokes to each other now can be forever. Without you, our gym wouldn't be possible. Without you we wouldn't have a place to call home. Most importantly, without you, we wouldn't be complete. Thank you for being the greatest mom to Eli and now (soon to be) stepmom to [his son with ex-wife Kailyn Lowry] Lincoln. I feared not finding someone that would love me and linc the way you do. Never have I questioned that with you. Thank you for everything you do for this family. I can't believe I'm this lucky."
As we wrote in November 2018, Comeau gave birth to her first child — his second.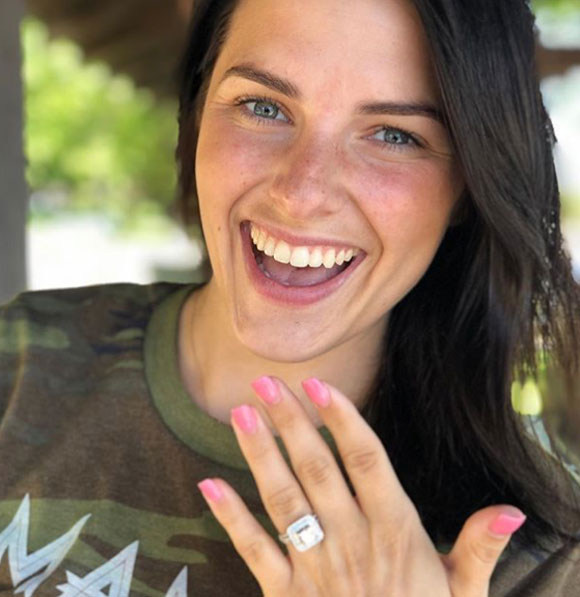 Not to be outdone, Lauren also posted snaps on her IG page, and revealed the reality TV hunk proposed in her hometown. She wrote:
"Meet my hunk of a FIANCÉ y'all! 💍06/17/19 the perfect day, with the perfect proposal. I couldn't have asked for anything more than walking the waterfront of my hometown with just my boys and my cousin stalking us in the trees. I blow almost every surprise and this one got me, I didn't see it coming..even when Linc spotted my cousin hiding😂 Thank you my love for this day, for our life, Im ready for whatever this crazy life throws at us as long as I got you😘 Heres to forever❤️"
Per In Touch on Wednesday, Kathryn Money — Vice President of Strategy & Merchandising for jewelry company Brilliant Earth — estimates the "center diamond weighs approximately 1 carat, with the diamond accents weighing an additional ½ carat," adding:
"The ring Javi gave to his now-fiancée, Lauren, appears to feature a round brilliant or cushion cut diamond, surrounded by a square-shaped double halo of diamonds set on a split shank featuring three delicate bands in white gold or platinum."
Money also believes Lauren's rock could cost up to $10K!
"Depending on the quality and specific characteristics of the diamond, we estimate the cost of the ring to be between $6,000-10,000 USD."
The couple previously dated from July to September 2017, and reconciled in March 2018.
Marroquin was previously in a relationship with co-star Briana DeJesus until January 2018, and was married to Lowry — who welcomed their son Lincoln (5) in November 2013 — until they finalized their divorce in 2016.
[Image via Javi Marroquin/Instagram.]