Another day, another private listening party for Taylor Swift!
As we reported, the Grammy-winner held a small secret session in London on Friday evening, where an exclusive group of Swifties were able to hear every song off her new album, Lover.
Apparently, Tay didn't want her stateside followers to feel like they were missing out. She reportedly held ANOTHER secret session in Nashville, Tennessee on Sunday night — and she evidently wore out her stans!
Here's what we've learned for now…
Related: Orlando Bloom Is 'All For' Katy Perry & Taylor's Reconciled Friendship!
According to those who were in attendance, the event kicked off around 4 p.m. at one of her Nashville residences and lasted a whopping 13 hours (!!!). Guests were so tired by the end of the night, they were reportedly given towels while resting on Tay's pool lounges.
Basically, it was literally one giant sleepover! Ha!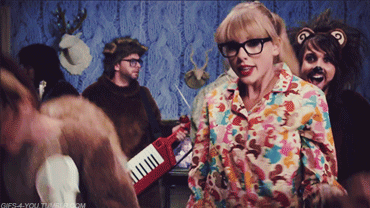 As for why the event was so long, it might be due to the sheer size of the guest list. Over 100 fans were in attendance, apparently, as the event was said to include guests from a Nashville session AND an alleged Rhode Island session. (There are rumors the original Rhode Island session was canceled because the date got leaked and Tay's team didn't want to risk dealing with any stalkers.)
Fans claim the 29-year-old spent six of the 13 hours meeting and greeting with fans from both sessions before everyone was able to hear her perform every song off her upcoming album.
At one point, Tay apparently discussed the infamous "5 holes" Instagram photo she posted earlier this year that sent fans into a frenzy. As Swifties know, the singer loves sharing clues in her social posts that reveal important dates for her upcoming projects — but not all the time.
That was apparently the case back in April when the artist shared a picture of herself through a white fence with five holes. Fans immediately started speculating the five holes were part of some cryptic countdown or that it meant the number five was somehow central to the album.
However, Tay later revealed the pic was simply a result of her wanting to change up her Instagram aesthetic. She apparently doubled down on this defense during the meet and greet, with one fan claiming the star promised she'd "never do that again."
Overall, the event was said to have wrapped up at around 5 a.m. — by which point, several dozen fans were apparently snoozing on Taylor's pool lounges. The epic sleepover is even more impressive given the fact that Taylor had just returned from London after treating U.K. fans to a similarly-intimate listening session.
Sounds like Tay's been making dreams come true all weekend. Rest up, gurl — you've earned it!
[Image via WENN]