The best way to promote the final season of your show at Comic-Con? Take shots at another show's less-than-satisfying final season!
That's the approach Seth Rogen took when he subtly shaded the Game of Thrones finale during the panel for his show Preacher.
Naturally, the last season of Thrones was on everyone's mind during San Diego Comic-Con this weekend, with plenty of stans still traumatized by the seemingly rushed and inorganic series finale. The whispers grew louder when fans learned the executive producers of Thrones declined to attend the show's last panel, apparently due to scheduling conflicts. 
Rogen joked about this drama-con during his Preacher panel, telling fans they should take his willingness to appear as a good omen the final season of his AMC series would (probably) not disappoint!
Photos: All The Best Cosplay At San Diego Comic-Con!
When asked if Preacher's last episodes would be satisfying, the actor quipped:
"I'm here, at least, so I think that's a good sign. I'm willing to show my face."
Ha!
Although Rogen didn't mention Game of Thrones by name, a later answer about the plotting of Preacher's final season was a more direct jab at the rushed ending to the HBO fantasy hit. 
He explained:
"There was a world where we could have maybe extended it longer, but to us it felt like [it was good] having a show where nearly every episode was propelling the story forward, and moving towards a final conclusion…in a plotted-out way that was hopefully fast-paced and satisfyin —you know, like the end of a TV show."
But not TOO fast paced where characters end up making decisions that go against their entire character, we hope…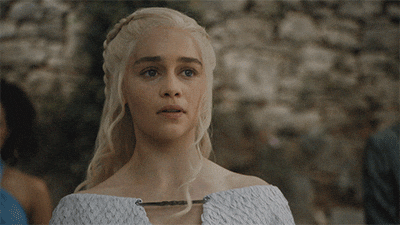 The Superbad star went on to field a few direct questions about the Thrones finale in a Q&A session with audience members. 
Explaining how he personally didn't like the way Jamie and Cersei Lannister died and the decision to make Bran Stark the king, Rogen said the final episodes of his show will give fans what they want — unlike its super-slow paced first season:
"People like this show the most when it's moving forward fast… I think early on in the series we kind of experimented with a slightly more measured pace, and I think we found that that was not our strength and that just a sheer mass of insanity was more the thing that people seemed to like about the show, in combination with the characters and the stories, it seemed like people just liked it to move at a pace that was exciting and we tried to do that more this season, for sure."
Meanwhile, the Thrones panel was dark and full of fans ready to express their distain for the final season. 
Related: 'Thrones' Star Confirms George R.R. Martin Came Up With THAT Ending Twist!
Nikolaj Coster-Waldau, who played Jaime in the series, was straight up booed by the crowd when he and other cast members attempted to justify the last few episodes. 
In a video shared by Variety on Twitter (below), the 48-year-old actor started to claim his character's "great" conclusion with Cersei was "perfect for that character's ending" and "made sense" to him when fans made their disagreement known.
Nikolaj didn't seem too bothered by the negative reaction, though, as he laughed before continuing to defend his stance on the subject. Watch (below).
#GameOfThrones' Nikolaj Coster-Waldau says that it was perfect for his character to "end in the arms of Cersei." The #SDCC crowd disagrees pic.twitter.com/CSCi9F6abE

— Variety (@Variety) July 20, 2019
Conleth Hill, who played Lord Varys, went on to attribute the season eight backlash to an apparent overblown perception of viewers' dissatisfaction, telling the crowd: 
"We're very grateful for your fandom over the years and I think this is the reality rather than a media-led hate campaign."
Coster-Waldau then claimed fans wouldn't have been happy with the finale either way, adding:
"It comes to an end, it's gonna piss you off no matter what because it's the end. If you hated the ending, if you loved the ending, that's great. Just don't call people names."
Uh… maybe no one tell him what was said on the Preacher panel…
Ch-ch-check out the full panel (below) to hear all of Seth's comments about Game of Thrones!