Khloé Kardashian won't let her little bro get away with even a little bit of social media flirting!
True Thompson's momma is, of course, the closest to Rob Kardashian out of all the KarJenner sisters, and so it makes sense that she checks up on his tweets from time to time, making sure he's on the up and up.
Related: Blac Chyna SLAMS 'KUWTK' As 'Stale And Contrived' — Does She Have A Point??
On Sunday night, though, Khlo-money must have seen something she wasn't sure about — because she caught her younger sibling openly flirting with Dominican singer Natti Natasha, and she totally called him out about it in front of all their followers!
Here's the moment Rob got caught with his hand in the proverbial cookie jar on Twitter (below):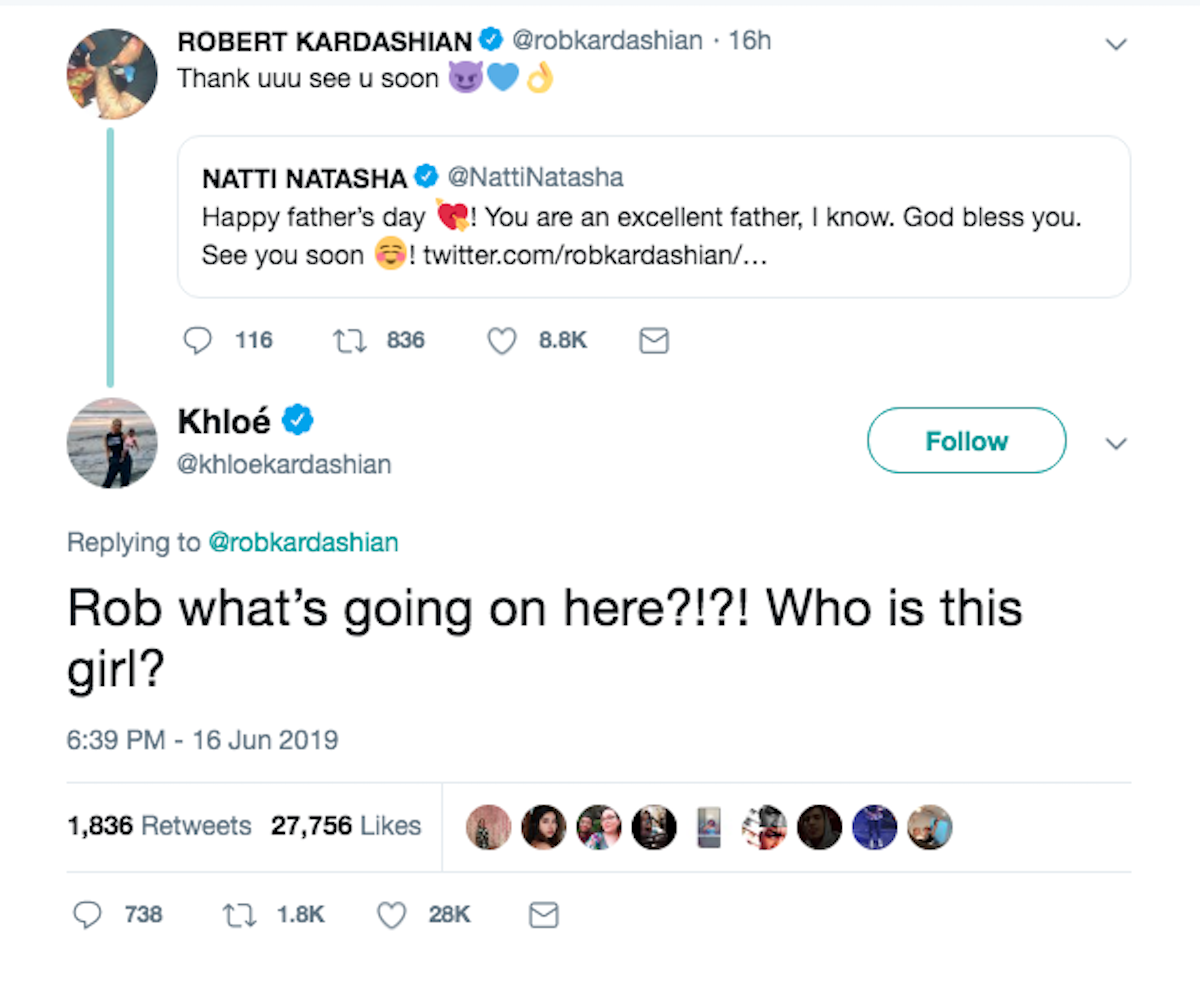 Ha!
The bro and sis had a little fun on Twitter poking fun at each other after that — and by Monday morning, the 32-year-old sock mogul was clearly in SOME kind of mood when logging onto the site (below):
Mood : GOOD morning ‼️😆 pic.twitter.com/IFX58e0T74

— ROBERT KARDASHIAN (@robkardashian) June 17, 2019
LOLz!!!
Of course, this isn't the first time Rob has been Twitter-flirting with Natasha!
Just a couple weeks ago the KUWTK star was called out for ogling one of her topless pics on the social media site… and the news made for great gossip when it went down! But there may be something to this spicy Dominican singer, as Rob keeps hitting her up (and vice versa!) over the 280-character platform.
As we reported at the time of the tweet, Natasha calls herself the "most watched woman on YouTube." Tough to tell if that's technically true, but she is gaining a TON of popularity in the Reggaeton and Bachata music scene, and she has over 250K followers on Twitter. Not bad!!!
Related: Rob Threatens Legal Action Against Chyna's Reality TV Wishes!
More importantly for Rob's current social life situation, as we've been reporting for a while now, the reality TV personality and his ex, Blac Chyna, have officially settled their custody battle regarding their two-year-old daughter Dream Kardashian. Reportedly, the former Rob & Chyna stars agreed to split custody 50/50 — though Rob will most likely have their baby slightly more often than Chyna based on the pair's week-to-week scheduling needs.
In other words: the man is single and BEYOND ready to mingle, y'all!
Does that mean we can expect more public flirting in the future?
And more of Khloé going full parental control on her little bro???
Ha!!!
[Image via WENN]