Jordyn Woods is over all the headlines!!
The 21-year-old took to Twitter on Wednesday morning to seemingly comment on all the media reports alluding to her fallout with Kylie Jenner! And guess what? She's over supposed sources speaking out about how she feels!
Related: Kylie's Fallout With Jordyn Woods 'Forced [Her] To Make New Friendships'!
Ch-ch-check out what Jordy had to say (below):
We need to publicize better headlines.. who's writes the articles? who decides what is posted on blogs? And why is there a new story every other day explaining "how I feel" about something I've never spoken to anyone about?

— Jordyn Woods (@jordynwoods) July 17, 2019
We write them! LOLz!!
The former Good American model could likely be referring to a recent source who spoke out, claiming Jordyn does not have FOMO from not going on Ky's epic Turks and Caicos getaway to promote her second Kylie Skin drop, even if it signals the end of their friendship.
The insider revealed at the time:
"This vacation makes it kind of clear that [Kylie and Jordyn] are moving on and doing what they have to do to move on with their lives… It is what it is. The writing's on the wall."
Despite their bestie breakup, Woods has clearly moved on, as evidenced in her tweet (above), but also from what the confidant had to say:
"Jordyn would love to be back on the same page with Kylie and love to have their friendship back, but she kind of has the attitude, 'I'm a grown woman'… She's just worried about what she has to get done. If Kylie wants to get back, great. If not, OK."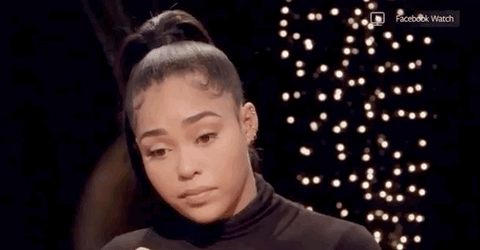 As we wrote, Jenner also attempted to pull back the curtain on Instagram this week to remind her followers she is still a "human" who struggles with anxiety, penning:
"I'm proud of myself, my heart, and my strength. growing up in the light with a million eyes on you just isn't normal. I've lost friends along the way and I've lost myself too sometimes. my first tattoo was 'sanity' to remind myself everyday to keep it. I've struggled with anxiety my whole young adult life and after my baby i dealt with all the internal ups and downs. I felt like i had to find myself completely again. I keep a whole lot to myself but just wanted to share and let you know I'm human. my life is not perfect and what you see here on social media is just the surface. be gentle with yourself, move on, and let go. we are all capable of great things, worthy of love, and allowed to express ourselves. do more of what makes you happy and be unapologetic. now is your season… we all have a magnificent destiny."
What do U think about what Jordyn has to say, Perezcious readers?! Are U sick of reading about her and Kylie? Sound OFF (below) with your thoughts on the former friends!!
[Image via Jordyn Woods/Instagram.]