If you've ever seen Lena Headey outside of Game of Thrones, you know she is miles away from her character Cersei Lannister.
In her latest interview she tries not to criticize the show that made her a star, and almost succeeds. Almost.
Related: How Emilia Clarke Feels About Her Fate
Speaking to The Guardian, Lena is at first hesitant to criticize the show too much — particularly because the interviewer seems to be suggesting outright to her face that the negative response to the final season was "the limitations of some of the actors in the leading roles."
WTF?!
Did he really ask her that??
No wonder she's cagey with her response at first. She's not going to shade her costars like that. (Not to mention the fact NO ONE is complaining about the acting in Season Eight — just the writing.)
What Lena does say is this:
"No, listen, I invested as a viewer and I have my favourite characters. And I've got a few of my own gripes. But I haven't sat down drunkly with [showrunners] David [Benioff] and Dan [Weiss] yet."
When asked what she will say during that drunken sitdown, the actress says outright:
"I will say I wanted a better death."
She isn't alone.
A great many fans were disappointed by the way she went out.
After all the people she'd tortured, blown up, and betrayed, viewers were waiting for a commensurate comeuppance.
But while innocent children were being turned to ash by an enormous dragon, she cowered in a catacomb with her brother/lover, Jaime.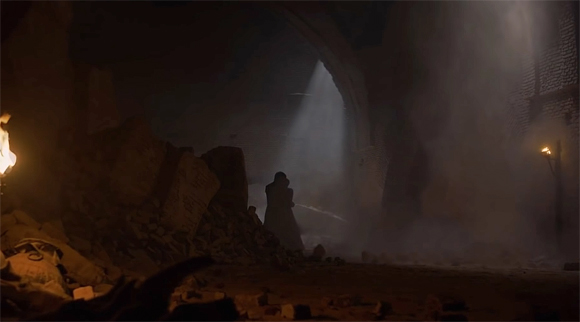 No one was even there to witness when the Queen was killed by a cave-in.
Lena says:
"Obviously you dream of your death. You could go in any way on that show. So I was kind of gutted.

But I just think they couldn't have pleased everyone. No matter what they did, I think there was going to be some big comedown from the climb."
You may not be able to please everyone, but the writers seem to have proved you can displease most everyone.
If you ask us, Lena is being far more generous than Cersei would have been. But like we said, she's a very different character.
For one thing, she's a good friend.
When asked if she's still in touch with any of her castmates, with whom she spent years, Lena really lets the tea spill.
She reveals:
"We're all on a giant WhatsApp group which is a daily pile-on. It's hilarious. You can tell who's been drinking on that one."
Damn!
Hopefully it's not Kit Harington anymore. The man who was Jon Snow entered rehab just before the finale aired, reportedly due to having such a hard time moving on after the show ended.
Lena does not have that problem, as she's been in the business long enough to know better. She recalls:
"It was amazing. And things end and you move on.

When I was much younger I would weep every time I ended a job. And I would take everybody's phone number, every single person I'd ever said hello to, because it had been such an intense experience. And then you get older and you have more of those experiences and they become less intense. I think the guys who grew up on that show, they probably formed really deep friendships that will carry them through. But most of us have our own kids. If kids don't balance you, then nothing does."
Ain't that the truth?
We're glad Lena is (mostly) at peace with her Game Of Thrones end.
Are YOU?? Or did you wish for a bigger, better end for Cersei Lannister??
[Image via HBO/YouTube.]