Cardi B's doctors were NOT exaggerating when they said her body was still swollen following her liposuction.
As we reported, the 26-year-old was forced to cancel multiple concerts due to the major swelling she was dealing with after undergoing the procedure on her stomach, sparking some criticism from those who wanted to see her perform.
Well, on Saturday, the mother-of-one submitted photographic evidence to prove to these critics that her body truly is going through it right now.
Photos: Cardi Gets Emotional As Kulture Turns 11 Months!
Observe her horribly swollen feet, as seen in a photo shared to her Instagram Stories (below):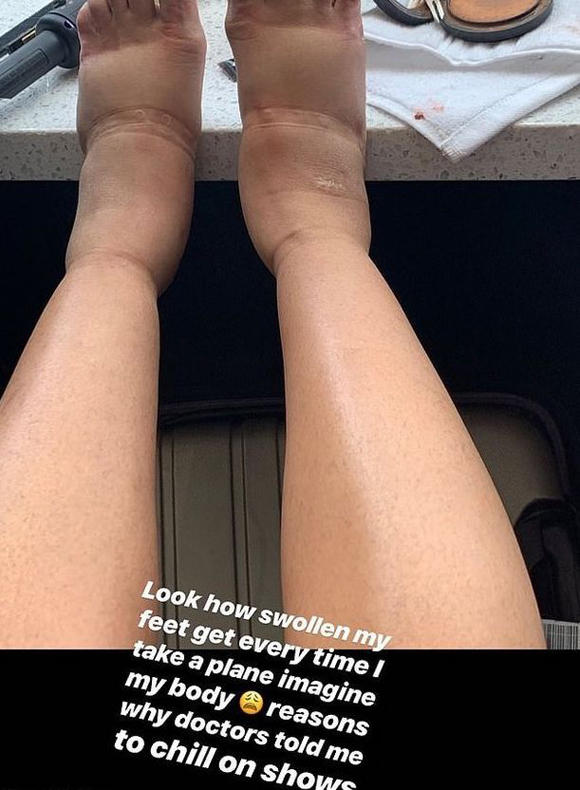 Eeeek!
Do you believe her now, haters!?
As Bardi explained in the caption, her feet apparently swell up "every time [she takes] a plane," adding:
"Reasons why doctors told me to chill on shows."
Cardi noted in the post that her "stomach gets even more puffy" than her feet, adding that both parts of her body start to "burn" when she gets "puffed up."
The Grammy winner first confirmed that she had liposuction at the beginning of May — after already revealing that she got a post-pregnancy breast augmentation — during her performance at the Beale Street Music Festival in Memphis, TN. 
She said at the time:
"I have some news for y'all. I should have canceled today. I shouldn't really be performing because moving too much is gonna f*** up my lipo. But bitch I'm still gonna get my motherf***ing money back, let's go!"
By the end of the month, the performer had to cancel several more shows due to doctors' orders. She apologized to fans in an Instagram Live video on May 27, saying:
"You know, I hate canceling shows because I love money. I'm a money addict, and I get paid a lot of money, a lot of money for these shows … like I'm cancelling millions of dollars in shows… But like, health is wealth, so I have to do what I have to do. My breasts gotta f***ing heal, and it is what it is … My doctor was like, 'Yo, you cannot be doing all these shows because you're not fully healed.' "
Cardi complied with these orders for a few weeks, but, surely enough, she was back to twerking on all fours last week at Hot 97's Summer Jam.
It's unclear if doctors will tell her to take some more time off. Judging by that unsettling foot pic, though, gurl shouldn't even be standing, let alone twerking on stage!
Put some ice on it, Cardi!
[Image via FayesVision/WENN]